"Hey, Hey Anybody Listening?" by Sonja Hinderlie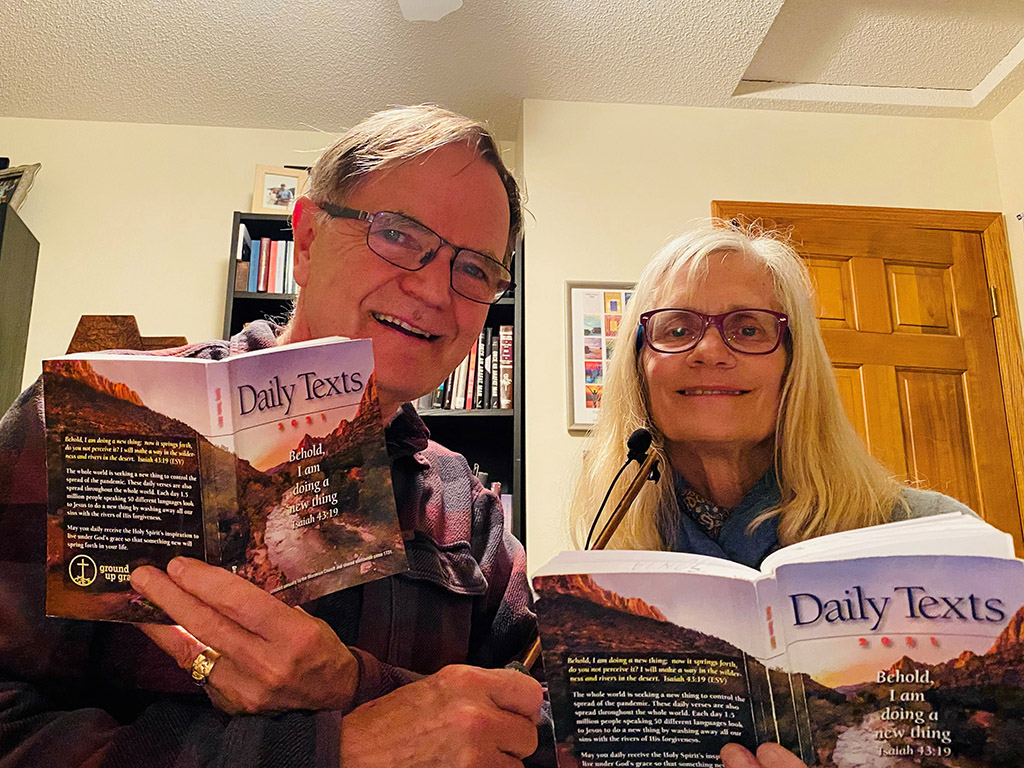 It is summertime in the United States and the days of lockdown due to COVID are waning. The "Voice of Freedom" podcast began in a time of changing and challenging scenes of life. We have heard from many that the Daily Texts shared through the means of a podcast was a lifeline of hope in the gospel. Now, people are more active and moving around to various places, but the need for the guidance and focus on the Word remains a valuable resource for each day.
Johan and I are not burdened by this responsibility. It has been a source of joy and expectation as we see all that God has for each believer. Thank you for listening and for passing this on to others. Thank you for texting responses to us. We've had the privilege of coming to Trinity Lutheran in San Pedro, CA for the month of July to relieve Pastor Hoff and his family while on vacation.
This is the place where a new program called Theta began in 2019. Find out more on www.trinitysanpedro.org. This is Trinity Greenhouse, a ministry to cultivate leaders for ministry from the young adult population. If you know of someone interested in being a part of this 9 month on site training, please check it out. You can contact nathan@trinitysanpedro.org.
The Daily Texts is used in the church office five days a week for a devotional time in community. Prayers are prayed around the texts and it is a time to pause and hear the voice of Jesus for the day as people share around the room.
---
Podcast Partners with Mount Carmel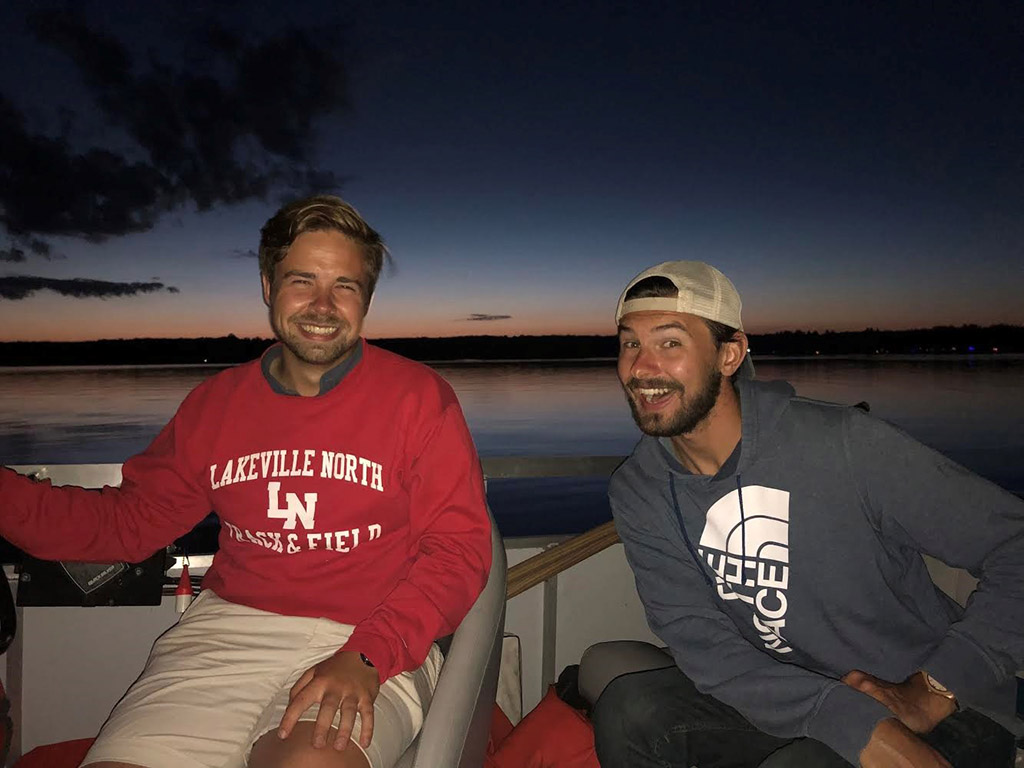 David Blackstad and Steven Wagner
Mount Carmel has been hosting the podcasts on most Mondays and Wednesdays since early June. We wanted you as listeners to know about this retreat center in Alexandria, MN where the Daily Texts shape the daily life of the community. Every day during Morning Praise, the texts are shared with families and individuals. David Blackstad, the Program Director and Pastor Tim Pederson, the Executive Director are inviting faculty and staff to share the "Voice of Freedom" from Mount Carmel.
This all began in 1989, while Johan and I were directors for Mount Carmel. We began using the Moravian Daily Texts in our daily devotions because of Ingrid Trobisch. She was on the faculty during 1989 and she trained us in how to pray using this book. Several of us attended some special sessions to be trained as marriage leaders by Ingrid. Through her leadership, we learned about a "Quiet Time" with our spouse praying through the Daily Texts.
When we wrote down our TRIP (Thanks, Regret, Intercession, and Plan), read and prayed it together, an intimacy grew between us. The Holy Spirit stirred honesty and forgiveness in us. New habits of thanksgiving based on God's promises were formed. This spiritual bond as a couple freed us from despair and dissension which had been in our marriage. This freedom was so necessary since we were working together rebuilding the ministry of Mount Carmel when it was almost bankrupt. The daily verses were a protection around our marriage as we daily meditated on these words.
Later in 1997, there was inspiration to produce a Mount Carmel version of the Daily Texts. After getting permission from the Moravian church to use the texts, a Mount Carmel version was published. Mount Carmel continued producing the books on an annual basis through the 2020 book.
In March of 2020, the Mount Carmel Board asked if Ground Up Grace would be willing to take over the production of the Daily Texts. We had retired from Mount Carmel in 2012, but were thankful to take on this responsibility, thus connecting our podcast (which started in January) with this devotional book.
---
2022 "Voice of Freedom" week at Mount Carmel.
We want to invite you to join us for a week at Mount Carmel, July 2-8, 2022. Our teacher, Professor Gracia Grindal, will walk us through the freedom stories of the Moravians, St Patrick and the Celtic revival, as well as the Scandinavian revivals. Our evening preachers will be our prayer writers. There will be other training and learning experiences with the time together. To register go to https://www.mountcarmelministries.com.
We look forward to joining together with you at Mount Carmel in 2022 as we celebrate together the voice of freedom our Lord speaks to us through the verses of the Daily Texts.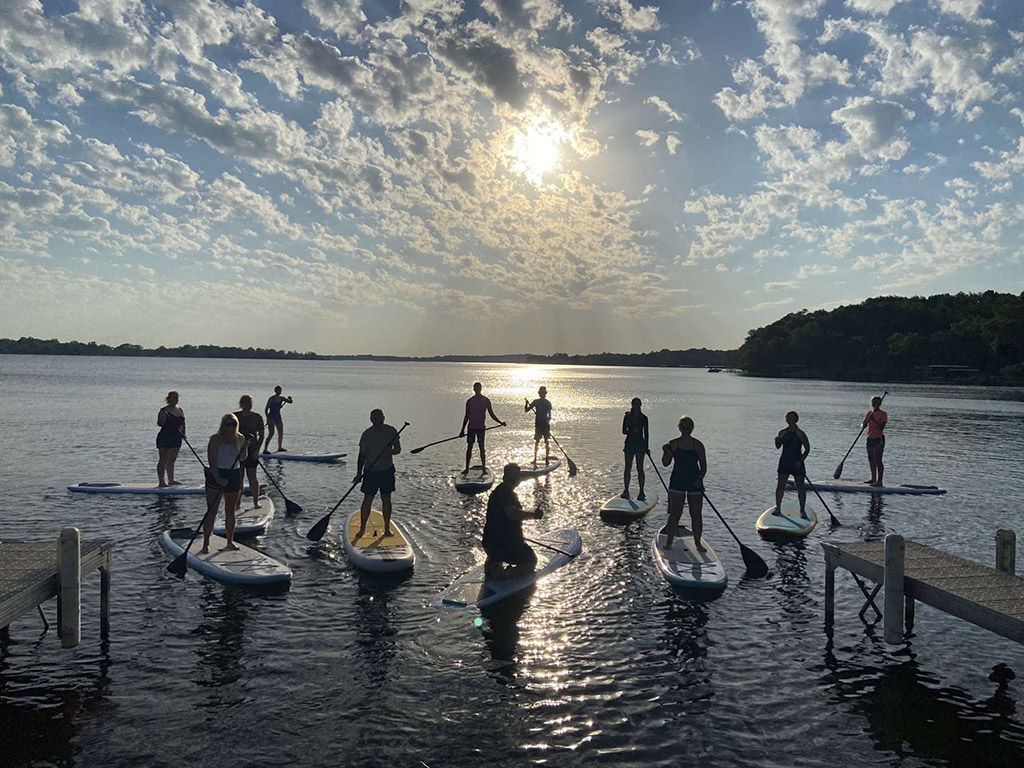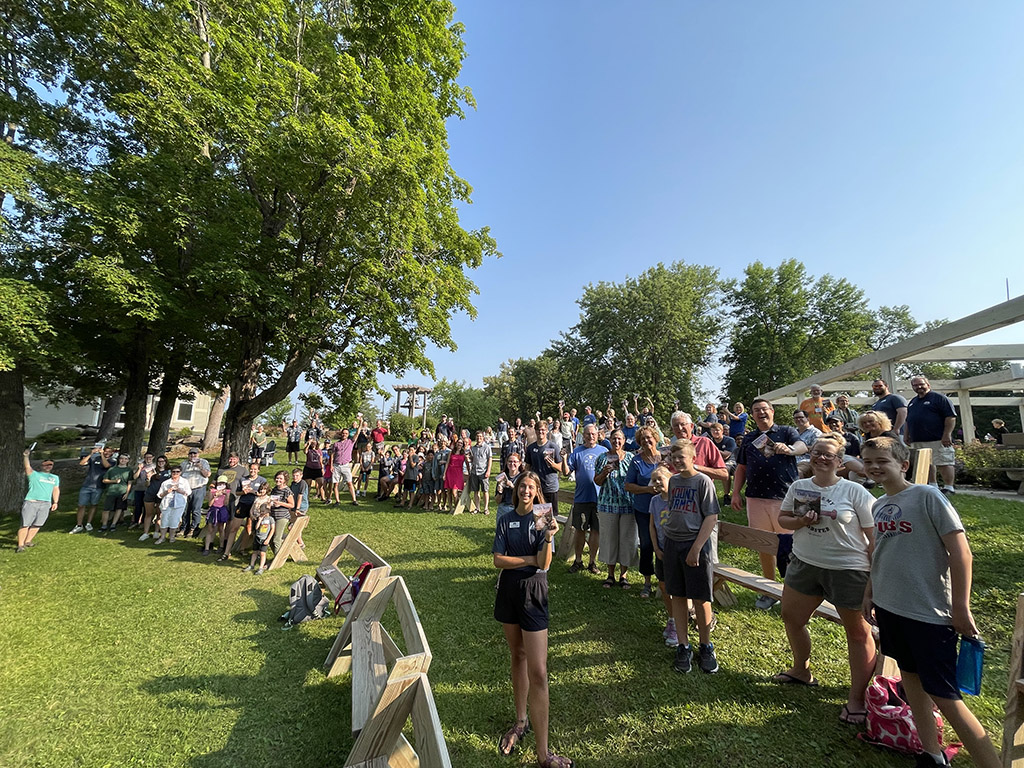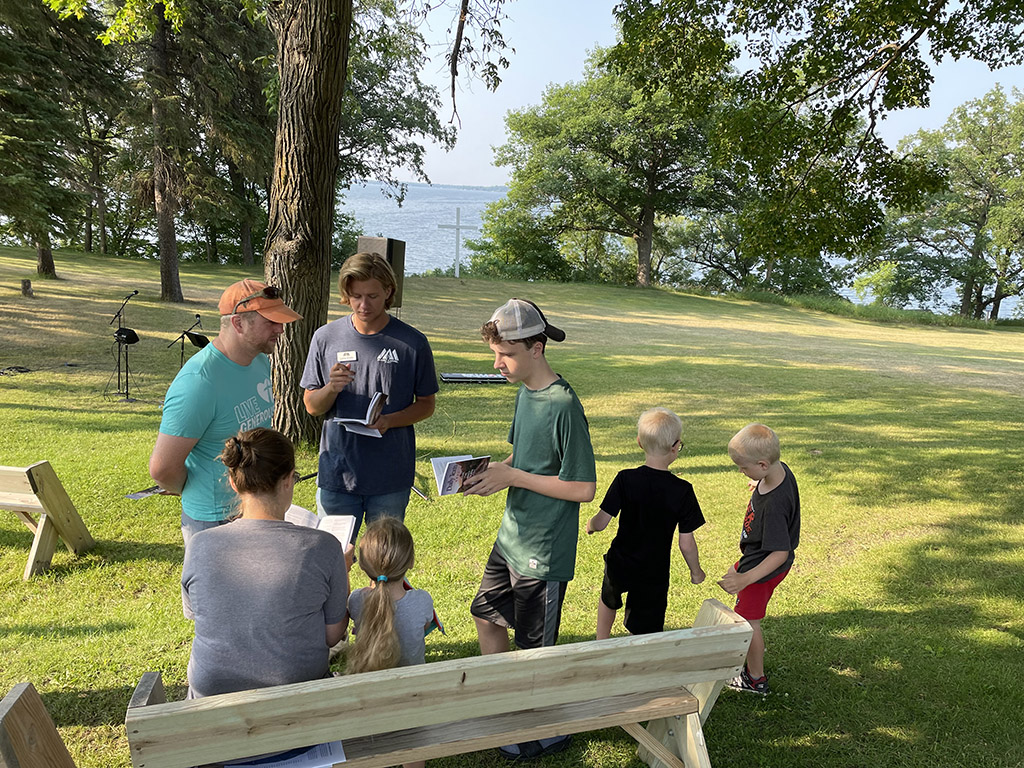 ---
JANUARY JOURNEY TO THE LAND OF JESUS ($1000 off!) by Johan Hinderlie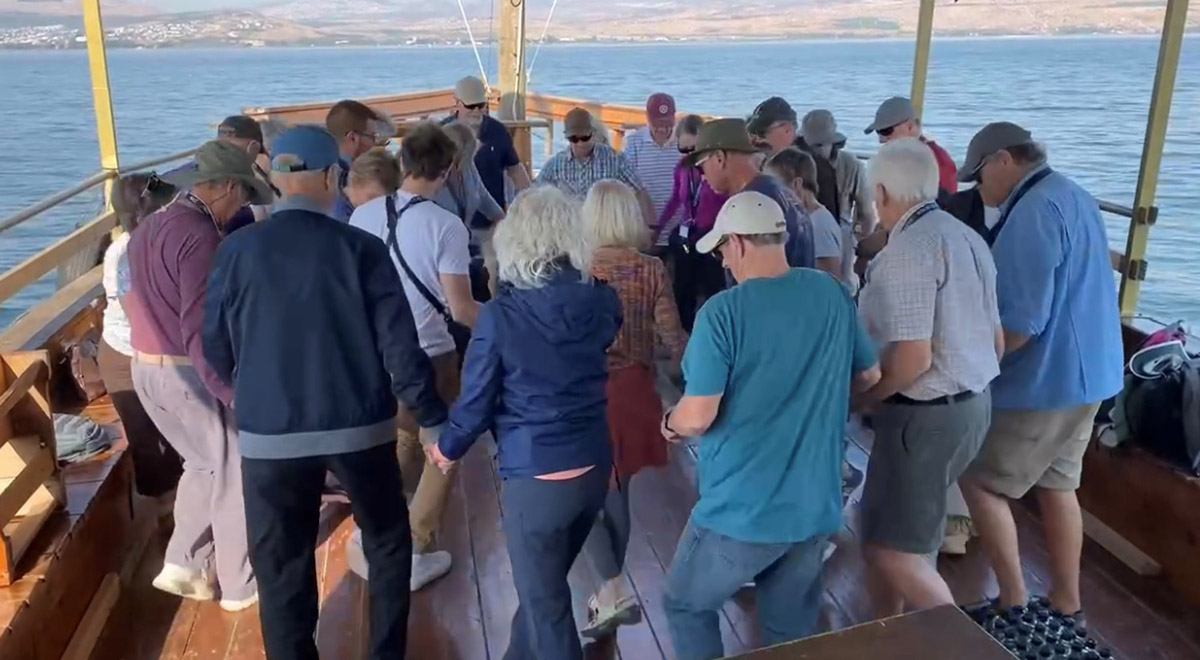 Our 10th pilgrimage to Israel will take place, God willing, in January of 2022 where you will be able to dance on the Sea of Galillee.
Join us for a holy way to begin 2022 with a ten day pilgrimage to the Holy Land. We begin where Jesus was born with two nights in Bethlehem. Then we are off to Galilee, stopping by Roman landmarks on the Mediterranean as well as Mount Carmel, Megiddo and Nazareth. After an overnight on the Sea of Galilee, relive Christ's ministry in Capernaum, the Mount of Beatitudes and with a boat ride on the big lake. As we travel to Jerusalem, we stop at the ancient city of Beit Shean before we enter the city where we will stay for four nights exploring the wonders of this historic place walking in the footsteps of our Lord.
You can learn all the details at www.groundupgrace.com/travelwithus. And the best news, this tour will save you $1000 off the usual price. It is only $3497 from the Twin Cities. Prices available from many other US airports. Consider sharing this adventure with a friend or relative. Let us know if we can help. (Tel. 763-260-1057)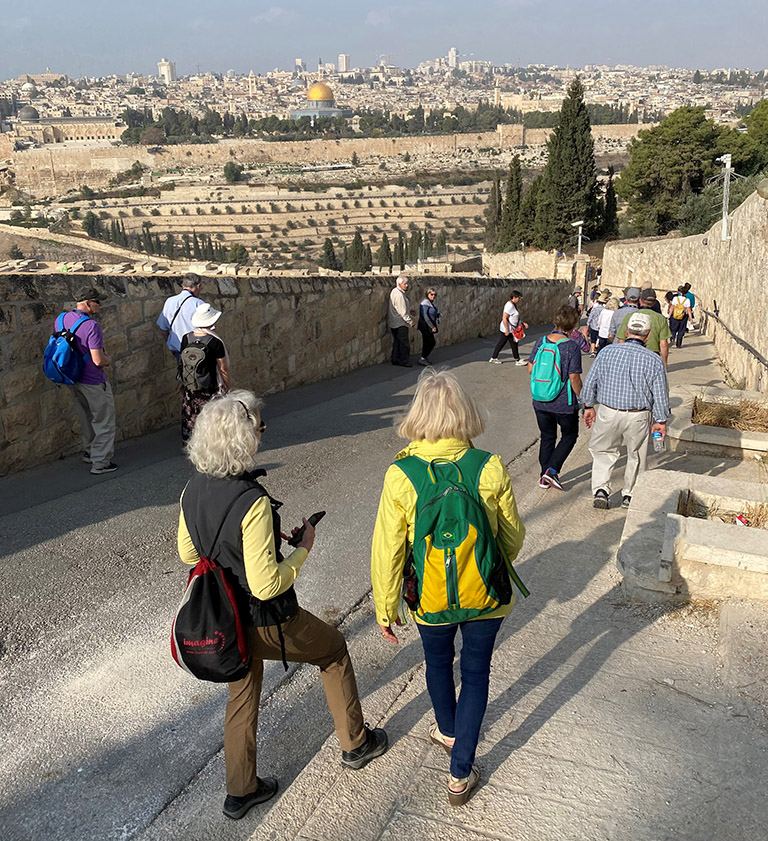 Walking the Palm Sunday way of Jesus from the Mount of Olives to Jerusalem and reading the story from the Gospels is a powerful part of our pilgrimage together.